The Best of Sherlock Holmes
The Ten Best
Sherlock Holmes Gifts
By Randall Stock, November 2, 2017 (History)
How do you choose the best Sherlock Holmes gift?  There are hundreds of books, movies, and other Sherlockian items to pick from.  Below are recommended presents for new fans, and a separate section for long-time Sherlockians that highlights top items produced in 2017.
New in 2017: The Year's
Best Sherlock Holmes Items
---
Classic Sherlock Holmes Gifts for New Fans – The Essentials
For someone new to the Sherlock Holmes stories, the best place to start is by reading The Adventures of Sherlock Holmes followed by The Memoirs of Sherlock Holmes.  These collections include the seven best Holmes short stories. 
Sir Arthur Conan Doyle wrote 60 Holmes tales.  These are available in at least 10 different complete collections, plus many other copies of individual books.  Because most of the Holmes stories are out of copyright, there are numerous cheap, shoddy, or indifferent versions of the stories.  However, there are a number of good-quality editions.  Each has strengths and weaknesses.  I've listed the ones that are the best for a new Holmes fan.
Best choice under $15 (12 stories, including 4 of the top 10 stories overall)
A classy and classic gift for anyone interested in Sherlock Holmes.  The complete set includes all 60 original stories, accompanied by hundreds of illustrations and a wealth of notes by Klinger that explain the Victorian world and delve into the nuances of the tales.  It consists of three large (10.4 x 9 inches) and heavy hardcover books.
Slipcased Version of The New Annotated Sherlock Holmes – Best Complete Collection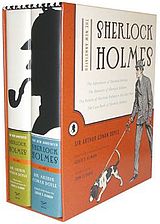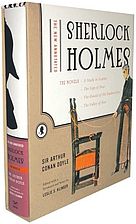 The Novels  ($59.95 SRP; Amazon US listing $42.97)
These hardcovers come with a handsome slipcase to display and protect the book when you're not reading it. Start with the Short Story collection.
Previously they also sold each volume separately without a slipcase, but as of November 2017 those were not available. In case that changes, you might want to check for The Short Stories, Volume 1 (Amazon US listing) which has 24 stories including 7 of the top 10 Holmes tales. The printed version includes many illustrations and extensive annotations adjacent to the text, and so I think most users will find it more enjoyable than the e-book.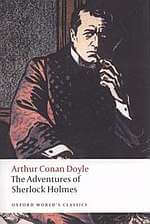 The Adventures of Sherlock Holmes (Oxford edition) by Sir Arthur Conan Doyle, Richard Lancelyn Green (ed.)
Oxford paperback edition ($12.95 SRP; Amazon US listing $12.95)
If you want a paperback volume that's less expensive and easier to carry and hold, get this Oxford edition of The Adventures. It has 12 stories, including 4 of the top 10 Holmes tales. Conan Doyle expert Richard Lancelyn Green provides an excellent introduction and fine annotations that don't interfere with reading the story. It has no illustrations, but the overall quality of information and accurate text makes it the best paperback choice for a new fan.
The Amazon link above takes you to the Oxford paperback. Clicking other formats on that page can display different (non-Oxford) versions which I don't recommend. You want the version that has a title page showing it was edited by Richard Lancelyn Green.
---
There are more than a thousand Holmes or Holmes-related stories by other authors.  Some of these "pastiches" are very good, but unfortunately many of them are marginal.  Opinions of them diverge wildly, so I've just listed two (plus a bonus) that have been around for 30+ years and are especially notable. 
The Exploits of Sherlock Holmes by Adrian Conan Doyle and John Dickson Carr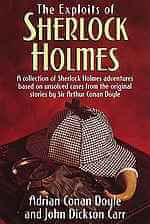 This book includes twelve short stories based on some of the untold tales in Sir Arthur's originals.  The stories are written by his son and noted mystery author John Dickson Carr.  The book does not appear to be in print, but you will find some copies listed at Amazon US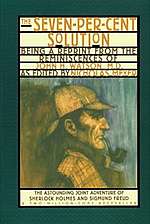 The book that sparked the Sherlock Holmes revival of the 1970s.  Although set in Victorian times, in many ways it provides a modern revision to the Holmes mythology.  It's a bit more of a thriller than a detective story, but a Sherlockian milestone nonetheless. 
($18.95 SRP; Amazon US listing $18.93)
Bonus: Almost Sherlock Holmes
The Solar Pons series by August Derleth
Short stories written in the style of the Holmes tales and featuring a very similar detective named Solar Pons.  Highly recommended – more like Holmes stories than most pastiches.  The series originally consisted of the following short-story collections:
In Re: Sherlock Holmes—The Adventures of Solar Pons
The Memoirs of Solar Pons
The Return of Solar Pons
The Reminiscences of Solar Pons
The Casebook of Solar Pons
The Chronicles of Solar Pons
These are generally out of print, but you will find some used copies on the Amazon Marketplace, or you can buy the complete set in a large two-volume hardcover as The Original Text Solar Pons Omnibus (ISBN 1-55246-077-0) for $200 from the publisher (email him for details).  There are also Solar Pons stories by Basil Cooper, but I have not read them.
---
The Lost World by Sir Arthur Conan Doyle

Conan Doyle's other classic creation took readers to a world of dinosaurs and adventure. It's a great adventure story and inspired numerous movies and books, including Jurassic Park. There are many basic paperback editions on Amazon. The best edition, now out of print, is the deluxe illustrated hardcover The Annotated Lost World edited by Roy Pilot and Alvin Rodin.
---
With his 2009 movie Sherlock Holmes, Robert Downey, Jr. joined more than 70 actors who have played the great detective in over 200 films.  That makes Holmes "the most portrayed literary human character" on screen according to Guinness World Records.  New fans should see at least one of the top Rathbone films and one of the more recent depictions of Holmes noted below.
Rathbone is arguably the best-known Holmes of the movies.  In part that's because he made 14 Holmes films, but it's also a reflection of his acting skill, his striking appearance, and the quality of at least some of these movies.  All are on DVD, but there are many different versions.  For extensive details, see my list of the Ten Best Basil Rathbone Sherlock Holmes Movies on DVD.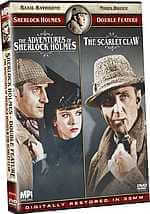 The best value for a new fan is a double-feature edition of The Adventures of Sherlock Holmes / The Scarlet Claw.  It gives you two of the top three Rathbone films, plus extras including audio commentary for both movies, a photo gallery, and a trailer for The Scarlet Claw.  Ignore the color cover and Amazon details: these are in the original atmospheric black & white. ($19.98 SRP; Amazon US listing $11.06)
If you prefer a film based on a Holmes story, Rathbone's Hound of the Baskervilles is his second-best Holmes film and a reasonably faithful adaptation of Sherlock Holmes's most famous case.  You can buy it in a special double-feature with the lower-rated Pursuit to Algiers for a few dollars more than the separate DVD version.  The double-feature gets you an extra movie while the separate DVD has a nice booklet and might have a little better picture quality.
There is a Complete Sherlock Holmes Collection 5-DVD set for people who want a good deal on all 14 movies, but be aware that Amazon prices for it have ranged from about $70 to $110.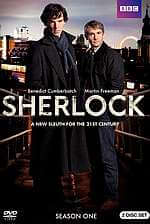 Although not a movie, this new vision of Holmes in present-day London truly captures the sense and spirit of the Conan Doyle stories and characters. Sherlockians will delight in the clever use of elements from the originals, while casual viewers will enjoy the fast-paced modern mysteries and adventures. Benedict Cumberbatch and Martin Freeman dazzle as Holmes and Watson. The two discs feature all three original uncut UK BBC episodes, which are each 8 minutes longer than the abridged versions shown by PBS in the USA. See my 2010 review of Sherlock: Season One for details on the disc Extras. The Blu-ray has the same content but in 1080i. Like the CSI TV series, some material might be too mature for children. ($34.98 SRP; Amazon US listing $25.28 DVD, Blu-ray/Multi-Format $26.09).
Series fans will also want to check out:
If instead you want a Victorian Holmes from the big screen, consider getting the 2010 release of the Robert Downey, Jr. Sherlock Holmes movie or my 2009 pick of Murder by Decree.
---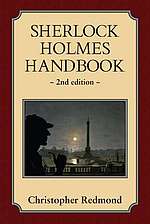 This marvelous book offers the best introduction and general reference to the world of Sherlock Holmes.  First get and read the original Conan Doyle stories – then get this book for a background to the tales and everything they've spawned.  Besides covering all the stories, it discusses the characters, the themes, the movie and television versions, the Victorian era, Conan Doyle, and the entire Holmes phenomenon.  It's an essential book if you don't have an annotated edition, and still useful even if you do have one.  While there are other similar types of books, this one gets the facts right and is the best-written.  Chris Redmond is a noted Sherlockian expert: be sure to get the 2009 second edition by him, not something by other authors with similar titles. ($32.00 SRP; Amazon US listing $25.13)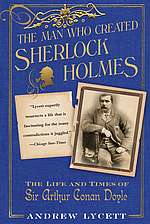 This up-to-date, comprehensive biography of Conan Doyle is ideal for new fans and even seasoned Sherlockians.  Lycett's careful research included access to the Conan Doyle archives, and unlike almost all other Conan Doyle biographies, it provides extensive source notes. ($32.99 SRP; Amazon US listing $24.05; also in hardcover)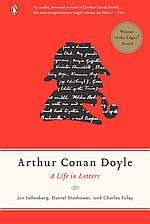 The first book of Sir Arthur Conan Doyle's private letters provides a first-hand, unvarnished account of his life until 1920.  See my detailed review of A Life in Letters.  While a biography offers a broader view of his life and work, these letters reveal details of everyday life and give a more personal impression of Doyle the man. ($18.00 SRP; Amazon US listing $18.00; also in hardcover)
The Baker Street Journal /
The Sherlock Holmes Journal
Anyone interested in Sherlock Holmes and Conan Doyle should consider subscribing to at least one of these two leading journals on the subject.  The Baker Street Irregulars, an American literary society, has published The Baker Street Journal since 1946.  The Sherlock Holmes Society of London publishes The Sherlock Holmes Journal.  See the BSJ website and the SHSL website for details.
Free Sherlockian Newsletters
Peter E. Blau produces Scuttlebutt from the Spermaceti Press, a monthly newsletter that is available in printed form or for free online via his Scuttlebutt web page.  Roger Johnson publishes The District Messenger, the newsletter of the Sherlock Holmes Society of London, which is available free via email or online at the SHSL District Messenger webpage.
---
What's New in 2017: Top Holmes Gifts For Long-Time Sherlockians
The year's best fictional Holmes books published in 2017.  Listed in order by author, see also About the Choices and E-books. 
Prices as of November 2017; subject to change.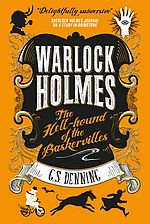 Denning's second volume of Warlock Holmes stories continues to mix comedy and the supernatural into quirky and clever revisions of Conan Doyle's original tales.  Its four short stories, including "The Solitary Tricyclist," provide absurdist and humorous re-imaginings.  The final tale, a novella, offers more of a straight supernatural version of The Hound, with the humor concentrated in the opening section.  Start with the first volume A Study in Brimstone.  It establishes characters and context for the second book and is a bit stronger overall, but both books provide a fun and unusual spin on the Canon.  ($14.95 SRP; Amazon US listing $11.61)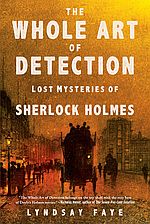 Lyndsay Faye captures the Holmes-Watson relationship better than any writer since Conan Doyle, and truly brings the characters to life.  This collection of 15 short stories includes two new stories, and most of the others appeared in magazines and will be new to most readers.  Her plots are reasonably plausible and spring from references to untold tales in the Canon.  The stories tend to have fewer deductions and puzzles than Conan Doyle's, but the characters ring true and the collection quality overall is very good indeed.  And don't miss Dust and Shadow, her outstanding debut novel matching Holmes and the Ripper.  ($25.00 SRP; Amazon US listing $19.13)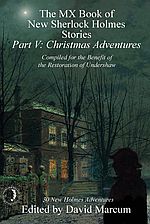 Unlike the first four volumes in this ongoing anthology, Part V is focused on "Christmas Adventures."  The tales remain straight Holmes pastiches with the traditional characters and time period, but they all take place around the holiday season and many involve the elements of Christmas.  That naturally invites more sentimentality and less hard crime than usual.  Because of that, you may want to sample the book over time rather than read it straight through.  While there might be fewer standout stories than in the earlier volumes, the average quality remains good.  ($28.00 SRP; Amazon US listing $27.93)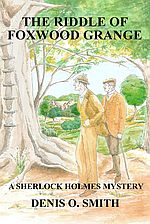 For Holmes stories that truly embody Conan Doyle's style, you must read Denis O. Smith.  His tales sound and feel authentic, with believable deductions and plots and the real voice of Dr. Watson.  After publishing some fine short stories and novellas, he decided to write his first Holmes novel.  It opens strongly with lots of satisfying deductions.  There is a pretty good puzzle in the story, but the plot and particularly the ending seem a bit forced.  While some of his short stories are better, this novel remains a clear step above most pastiches.  ($14.95 SRP; Amazon US listing $14.95)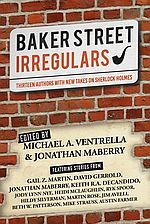 Thirteen authors provide thirteen alternative visions of Holmes, including the detective as a vampire, an alien, and a college freshman girl.  While similar in concept to Echoes of Sherlock Holmes and its predecessors, many of these stories involve some elements of science fiction or the supernatural.  Half the tales are pretty good, a few are middling, and a couple are just bad.  Overall there is enough interesting material to make it worthwhile, especially if you enjoy SF/horror.  But if you're not sure about reading non-traditional pastiches, first try those earlier "inspired by Holmes" anthologies.  ($16.99 SRP; Amazon US listing $16.55)
See also the Best 2016 Holmes fiction and the Best Holmes fiction from other years for more excellent choices.
---
The year's best DVDs, Blu-ray Discs, videos, movie-related and audio items released in 2017.  More About the Choices.
See also the two best Holmes movies for new fans above. Prices as of November 2017; subject to change.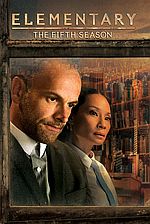 Season five of Elementary continued the twisty plots of prior years that, combined with fine acting, set it apart from other network TV.  The highlights this season included a two-part episode with Kitty Winter and another where Watson is taken hostage in order to force Sherlock to solve a crime in 18 hours.  An extended subplot with Shinwell Johnson adds character development for Holmes and Watson, but is darker and less satisfying than story arcs from prior years.  The 6 DVD set includes 50 minutes of extras, with about half being quite interesting.  While prior years included creative adaptations of original Holmes tales, a bonus for Holmes fans, season five remains top-notch TV.  ($49.99 SRP; Amazon US listing $22.23)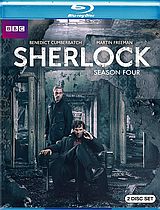 While the BBC's Sherlock remains a treat, the series has weakened as its creators move their characters more into fantasy and further from the spirt of Conan Doyle's tales.  To their credit, season four's second episode gets closer to their earlier formula that balanced style with substance.  Lazy plotting in the first episode was somewhat redeemed by resolving the ludicrous story arc involving the ninja Mary Watson.  The finale owes more to James Bond than Holmes, but has points of interest.  All three episodes have the fine production values and distinctive visual flair that help make the series special.  The nearly two hours of extras include a superb 21-minute featurette "From Script to Screen" that is a must-see for fans.  ($25.98 SRP; Amazon US listing $20.97 DVD, $24.99 Blu-ray)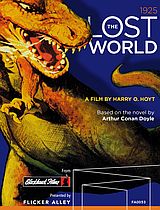 Best-known as a special-effects precursor to King Kong, the 1925 silent version of The Lost World used Willis O'Brien's then cutting-edge effects to bring dinosaurs to life in the first film adaptation of Conan Doyle's classic adventure story.  This 2017 Blu-ray, with 10 minutes of newly discovered footage, offers the most complete and highest quality version of the film ever.  It costs more than other versions, but is well worth it if you don't already own the movie on DVD or are a silent-film enthusiast.  The Blu-ray Includes a new full-orchestral score, 40 minutes of extras, audio commentary, and an illustrated booklet.  ($39.95 SRP; Amazon US listing $34.99)
See also the Best 2016 Holmes DVDs and movies and the Best Holmes movies from other years for more excellent choices.
---
The year's best books about Holmes or Conan Doyle published in 2017.  Listed in order by author; more About the Choices and E-books.
See also the best books about Holmes & Conan Doyle for new fans above. Prices as of November 2017; subject to change.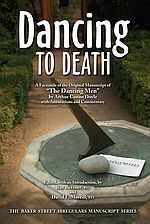 Conan Doyle chose "The Dancing Men" as his third-best Holmes story, and it remains one of the most memorable.  This manuscript facsimile reproduces the pages in grayscale and at a somewhat reduced size, with a transcription and detailed notes facing each page.  A full description and history of the manuscript includes the origin of the cipher and of the story's title.  Other essays explore the tale in depth, with more about ciphers, the connections to Dallas and to the lawless city of Chicago, solving a murder through sound, and much more.  ($39.95 SRP; not on Amazon; see BSJ website)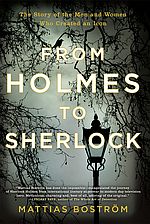 Heralded by Michael Dirda as "the best account of Baker Street mania ever written," Boström's important and entertaining book should be read by all Holmes fans.  It explores the evolution of the Holmes phenomenon and fandom through 2015.  Especially valuable for coverage of Sherlockian events after 1930, it also brings to light previously unreported material from the Richard Lancelyn Green Collection.  Somewhat like Carr's biography of Conan Doyle, Boström uses a novelistic style with a "you are there" feel that makes the book fun to read but occasionally limits its usefulness as a reference work.  It does, however, include source citations and an index, and thus provides a starting point for further research.  ($28.00 SRP; Amazon US listing $19.27)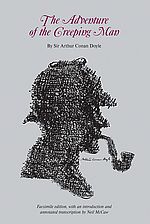 As McCaw notes in his introduction, reading a Holmes manuscript "somehow feels different" to reading the published text.  His annotations enhance this experience by exploring how Conan Doyle's changes affected the story and the Canon.  McCaw's writing is scholarly and well-sourced yet eminently readable.  Excellent photos of the manuscript pages appear in color and at nearly full size.  That high production quality is unfortunately somewhat offset by a too-small typeface for the introduction and transcription.  While more could be written about the manuscript, this facsimile deserves a spot in your collection.  (£50 SRP including shipping from the UK; not on Amazon; see Portsmouth website)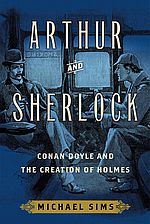 Michael Sims combines biography and literary history in this examination of Conan Doyle's early life and the influences that led to the Holmes stories.  New Sherlockians will find much of interest, as it draws from the essential sources on Conan Doyle, including A Life In Letters and Lycett's biography, as well as several specialized biographical books.  Excellent source citations allow readers to assess the claims and investigate further.  While long-time Doyleans have probably encountered most of the Conan Doyle information before, Sims adds details of literary history that will be new to many, and his approachable writing style makes for an enjoyable book.  ($27.00 SRP; Amazon US listing $14.85)
See also the Best 2016 books about Holmes & Doyle and the Best Books About Holmes & Doyle from other years for more fine choices.
---
This site first published its "Best of Year" reviews and recommendations in 2009. See all the previous best Holmes books and DVDs / Blu-ray selections. People just getting started with Holmes should see the best choices for new Sherlockians at the top of the current page.
This page's 2017 list was first posted on November 2, 2017.
---
A Kindle version of most of these books is available, but I don't list the e-book or its price unless it's hard to find on Amazon. Typically the Kindle Edition will be listed in the Formats box to the right of a book's cover photo.
When a book is available in both print and e-text, I review the print edition.
Return to Holmes Fiction or to Books About Holmes & Doyle.
---
The good news for people interested in Sherlock Holmes is that there are so many books and related items beyond the original 60 tales.  The bad news is there are so many items – how do you choose what to get?  I've tried to simplify things by highlighting the best material for a new Sherlockian, and the best new items for long-time Sherlockians.
My choices are based on 30+ years of reading and collecting Sherlockiana.  I'm a member of the Baker Street Irregulars, have written numerous Sherlockian articles, and have spoken about Conan Doyle rarities for conferences at Harvard and the University of Minnesota.
Selection criteria include my personal evaluation, other reviews, and price/value considerations. I read numerous Sherlockian publications for recommended new material and try to examine their top choices. For very new or unpublished items, I try to get advance copies or enough information to render a judgment. However, in order to publish this review before the holidays, items released after October 15 are usually evaluated for next year's list.
I've found all the items on this page to be enjoyable and/or useful, and place them among the best in their category.  They've also received strong positive reviews from Sherlockian and/or general publications.  Finally, in selecting items I consider both quality and price/value.
I limit the number of items in order to make this list easier and faster for people to use.  However, that does mean there are some very good items that didn't quite make my list.  And it's possible that I simply didn't get a chance to evaluate some 2017 items – feel free to send me email if you think there is something that should be on the list.
In most cases I've given both the U.S. suggested retail price (SRP) and the price at Amazon as of November 2017; those prices are of course subject to change.
---
The Best 2016 Sherlock Holmes books and DVDs / Blu-ray
All Prior Year's Best Sherlock Holmes books and DVDs / Blu-ray
The 10 Best Basil Rathbone Sherlock Holmes Movies and DVDs
The Best Sherlock Holmes Stories
The Top 10 Quotes from the Sherlock Holmes stories
Other Top 10 Lists for Sherlock Holmes and Conan Doyle
---