The Best of Sherlock Holmes
A Sidney Paget Original Drawing: The Death of Sherlock Holmes
(see also the Census of Sidney Paget Original Drawings and Artwork)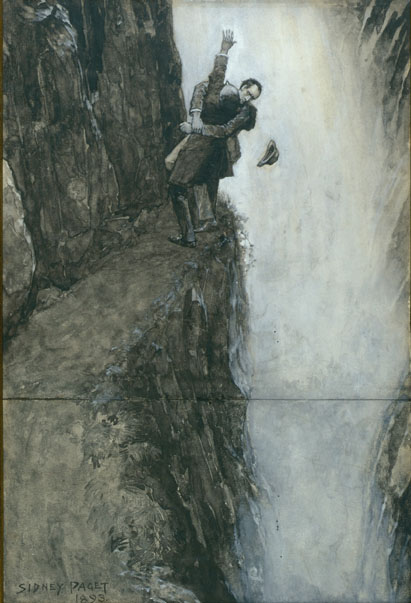 Sidney Paget's Original Drawing of Holmes and Moriarty in Mortal Combat at the Reichenbach Falls.  (Photo courtesy of Sotheby's)
Part of the Maurice F. Neville Collection of Modern Literature offered for sale on 16 November 2004 at Sotheby's New York.
This 10.5 x 6.75 inch drawing was used to illustrate the story "The Final Problem."  It was done in two sections which are separated with an even black line.  Perhaps the most iconic of all Sherlock Holmes illustrations, it first appeared as the frontispiece to the December 1893 issue of The Strand Magazine and was later used as the frontispiece for the 1894 collection The Memoirs of Sherlock Holmes.
More information about the drawing and the sale are on this site's Sotheby's Manuscript and Drawing Sale Page.
A checklist of all of Sidney Paget's original drawings describes all of his extant original Sherlock Holmes drawings as well as other drawings and paintings.
Related Pages
News Archive for Conan Doyle Manuscripts
Other Conan Doyle rarities like Beeton's Christmas Annual 1887 and Sidney Paget drawings.
Lists of each year's best Sherlock Holmes books & DVDs, the most famous Sherlock Holmes quotes, and more Top 10 Lists.
Return to Manuscripts Home page and Introduction
---